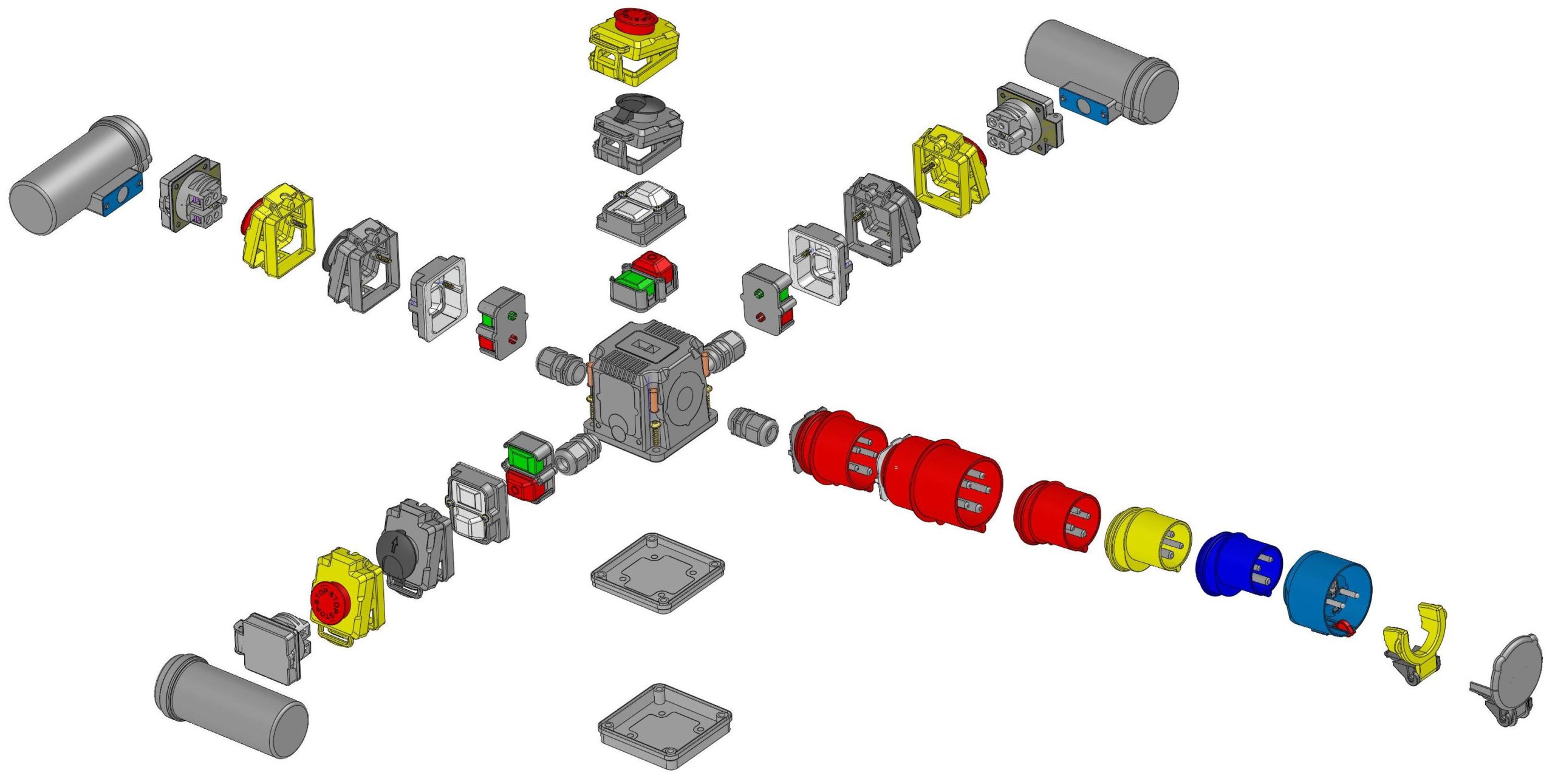 Housing system D
Discover our modular, compact and versatile enclosure system D.
Take advantage of the very extensive combination possibilities with the various range of add-on components to create your application.
The varied compact design with or without plug-in connection, as well as with our without buttons enables many individual combination possibilities.
To feed in your solution a wide range of different plug-ins like Schuko, CEE, etc… are available. Additional add-on components like coupling holders, splash guard covers or integrated phase inverters complete the system.
If the plug-in version is not the right solution, the feeding of your solution can be done by a cable gland or a specific cable with a plug.
The four selectable button positions, top, back, left or right brings a high flexibility for the place of your solution.
Additional add-on components such as transparent covers with a coloured frame or flip-top lid extending the system.
Choose the version without buttons and use the system for applications with external controls or other operating concepts like cam switches or rocker switches.
Built-on & Mounting-on version
The mounting-on version is having a closed bottom so that you decide yourself where and how you place your solution to the application.
The built-on version offers an open design in the bottom so that your solution can be directly mount to the motor terminal block.
Especially for this kind of assembly a various range of adaptors with different hole dimension are available.
Modular combination possibilities for built-on and mounting on versions
A wide range of add-on components like subbase enclosures available in different heights and designs support the combination and expanding possibilities of the system.
The large selection of adaptor plates and adaptor housings bringing a high flexibility to assemble your solution directly to the motor terminal block.
The easy to assemble add-on additional components like plug covers, coupling holders, button covers, capacitor tubes and many more expanding the system to a variety of additional solutions.
A various range of add-on components such as electronic modules, limiter switches, terminal blocks, built in sockets and much are available to design the right solution for your application.
Add-on components for switching and protecting
The modular design enables the installation of different switching and protecting devices like:
contactor BR-01
built in switch TP3251
rocker switches
cam switches
overload protection
limiter switches
and may more
Contact us
You have any questions? Contact us, we will be happy to help you find your best solution!
A standard selection of our switches you will find in onlineshop
Other solutions